As with all good science projects, once we collected our data, we took the time to analyze it. Using Google sheets, we graphed individual class results for the number of different birds over time. And although the trends were similar across classes, each class also showed unique patterns. However, when all class data was graphed together (96 data points!) overall trends became very clear.
Surprisingly, both Small and Medium beaked Clipbirds had the greatest success in both survival and reproduction, as well as a fairly direct relationship between time and population. Big beaked birds however, in contrast to many students hypotheses, always struggled to survive and almost never reproduced on the island due to their vastly higher calorie requirements. In this activity it became very clear that natural selection does not always favor the biggest, or strongest animal but always the animal best adapted to its environment, which on Clipbird island meant having a small or medium beak, intsead of a big beak. Tuesday when we get back to school we will continue looking at evolutionary relationship among not just small groups of organisms but of many organisms across the tree of life.
Powered by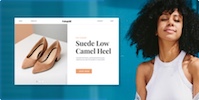 Create your own unique website with customizable templates.